CAA Women's Lacrosse
Hofstra's Cara Scanio Chosen As 2022 Randolph Inspiration Award Winner
Hofstra's Cara Scanio Chosen As 2022 Randolph Inspiration Award Winner
Hofstra University women's lacrosse player Cara Scanio has been chosen by the CAA as the recipient of the 2022 John H. Randolph Inspiration Award.
Aug 5, 2022
by FloSports Staff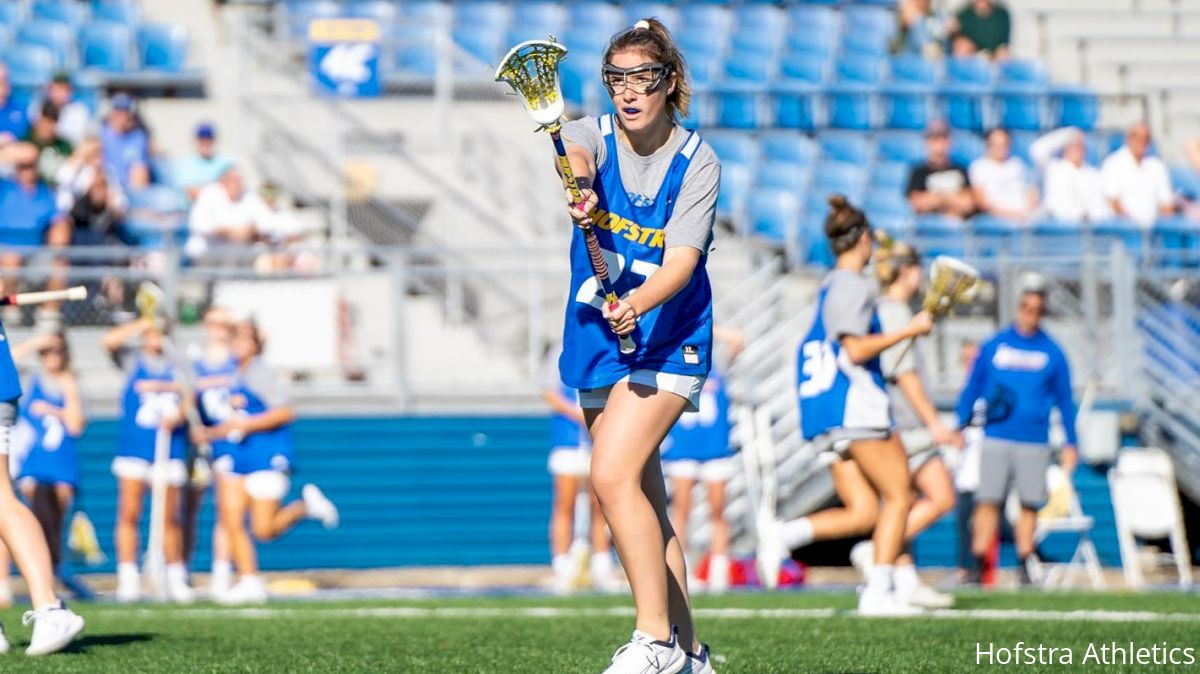 Hofstra University women's lacrosse player Cara Scanio has been chosen by the Colonial Athletic Association as the recipient of the 2022 John H. Randolph Inspiration Award.
The award recognizes individuals who through strength of character and human spirit serve as an inspiration to all to maximize their potential and ability for success. It is named after former William & Mary athletic director John Randolph, who lost a courageous battle with cancer in 1995.
Scanio, a native of Massapequa, New York, has been faced with multiple personal hardships in her life, but she has used those challenges to inspire, motivate and help others.
She suffered a torn ACL during her junior year in high school, and after the injury didn't heal properly, went through a second surgery during her freshman year at Hofstra.
While recovering from the surgery, Cara's mother, Suzanne Scanio, was diagnosed with breast cancer that ultimately spread to her brain. After a valiant battle, Suzanne passed away during Cara's sophomore year of college.
In an extremely difficult time personally, Cara and her family founded the Suzanne M. Scanio Foundation, a non-profit organization that assists families facing hardship or grief.
While balancing the demands of being a student-athlete, Cara has organized clothing drives and a variety of fundraising events, including the inaugural 5K Walk/Run for the Suzanne M. Scanio Foundation.
Cara is heavily involved in other activities at Hofstra.
She co-runs Hofstra's Fellowship of Christian Athletes organization and has helped organize Hofstra's involvement with Morgan's Message, which strives to eliminate the stigma surrounding mental health within the student-athlete community and equalize the treatment of physical and mental health in athletics.
Last May, Cara was named the recipient of the Yeardley Reynolds Love Unsung Hero Award for NCAA Division I women's lacrosse. The award recognizes the accomplishments of six student-athletes who help their teams achieve success in ways that may not be measured in goals, saves or ground balls. The honor places value on kindness and generosity, characteristics that are often undervalued in the competitively charged environment of college lacrosse.
"Cara continues to inspire everyone around her with how she carries herself and motivates and galvanizes the community around her," commented Hofstra head women's lacrosse coach Shannon Smith. "I am honored to be Cara's coach, and we know her impact on this world is just getting started. We are so thankful to the Colonial Athletic Association and also to the One Love Foundation for recognizing her. Cara has done incredible work with The Suzanne M. Scanio Foundation in memory of her mother and she has become a beacon of 'Pride' within our campus and Long Island community."
PAST RANDOLPH AWARD RECIPIENTS
2021 Mark Faello (Hofstra)
Tom Kuster (James Madison)
2020 Aashaka Desai (Delaware)
Yeedee Thaenrat (Towson)
2019 Kionna Jeter (Towson)
2018 Trai SharpJames (Madison)
2017 Kathryn Ostrom (UNCW)
2016 Nicole Dennion (Elon)
2015 Dr. Maravene Loeschke (Towson)
2014 Heather Hartman (Delaware)
2013 Nick Colleluori (Hofstra)
UNCW women's soccer (UNCW)
2012 Shelia Moorman (James Madison)
2011 Steven Vincent (Delaware)
2010 Dawn Evans (James Madison)
2009 Meghan Bain (James Madison)
2008 T.J. Carter (UNCW)
2007 Nicole Hester (Drexel)
2006 Kevin DuPrey (Delaware)
2005 Julia Shapiro (Delaware)
2004 Beth Childs (Drexel)
Alan Lindsey (James Madison)
Brannon Thomas (William & Mary)
2003 Ricky Beecher (Towson)
2002 Paul Tuohey (Drexel)
2001 Mandy Welch (Delaware)
2000 Laura Kenney (George Mason)
Liz Paoli (George Mason)
1999 Maria-Elena Calle (VCU)
1998 Felicia Allen (Old Dominion)
1997 Scott Pearson (American)
1996 Barbara Blosser (William & Mary)
John Welbourn (East Carolina)