2019 International Week - Day Two
New Balance Future Stars Series Is A Cure For The 'Yeah, Buts'
New Balance Future Stars Series Is A Cure For The 'Yeah, Buts'
The Future Stars Series provides an opportunity for players on U.S. Elite—and clubs like them—to show out in front of eyes that matter.
Jul 9, 2019
by Kyle Kensing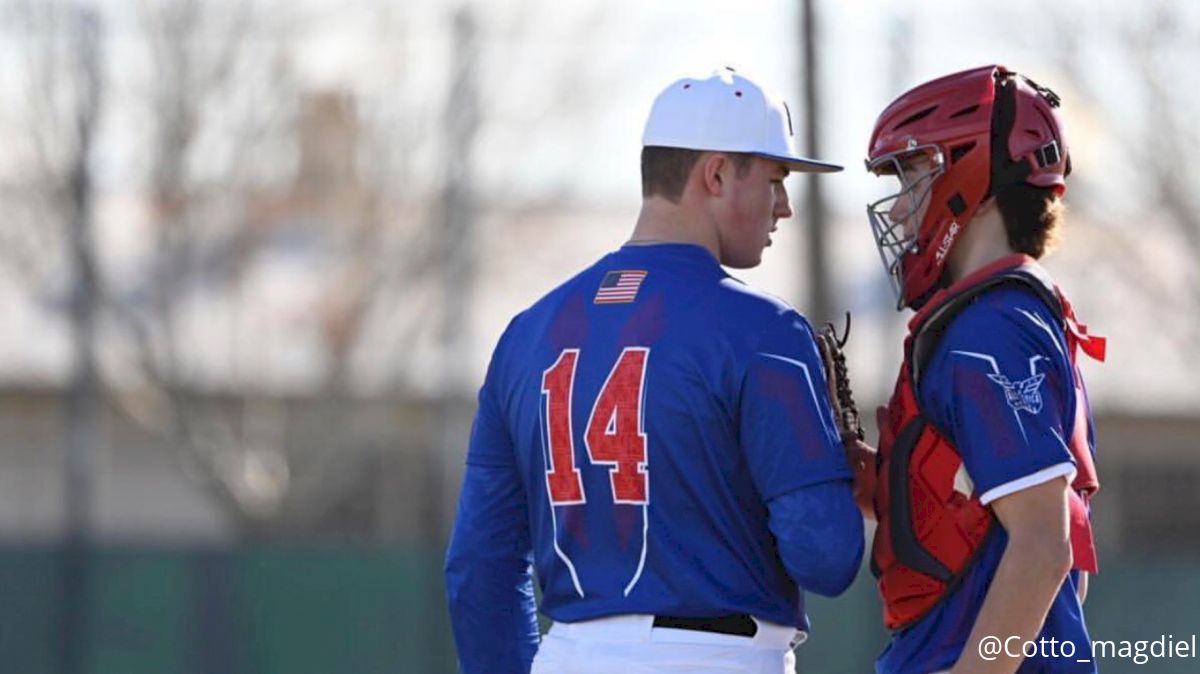 For U.S. Elite Baseball director Mark Helsel, perhaps the most valuable facet of the New Balance Future Stars Series is its solution for cases of what he called "the yeah, buts."
"College coaches and pro scouts [say], 'We like this guy, but…'" Helsel said.
U.S. Elite, like the rest of the Future Star Series field, is rife with talent. Among the club's U-17 roster is 6-foot-3 class of 2020 left-handed pitcher Magdiel Cotto, a commit to national powerhouse the University of South Carolina.
Other NCAA recruits and future MLBers dot the lineups taking to Texas for the event. Part of Future Stars' intrigue, however, is in the evaluations pinpointing areas for improvement in high-level prospects' games.
Very blessed & honored to say that I've committed to further my academic & baseball career at the University of South Carolina! Thank you to God, my family, my teammates & all of the coaches that have helped me along the way for getting me get to where I am today. #ForeverToThee pic.twitter.com/bgUQfdmWyU

— Mag_Cotto (@Cotto_magdiel) July 13, 2018
"Some kids are really good at something but don't realize the weakness in their game might keep them from getting where they want to go," said Helsel. "We'll take that number not as a negative, but [rather] this is golden information. We're going to take this home and fix this number."
"In our program, we're all about honesty and accuracy," Helsel added. "And the evaluations [at Future Stars] that are legit, not just telling people what they want to hear."
Both the Future Stars Series and U.S. Elite have proven adept at preparing players for the next step, whether to college or the pros. Recent Future Stars alumni include 2018 MLB draftee Grayson Rodriguez, the No. 11 overall pick.
U.S. Elite products Brett Kinneman -- an NC State standout and current member of the Pittsburgh Pirates organization -- and Niko Hulsizer, a Morehead State grad now with the Advanced-A Rancho Cucamonga Quakes, were both selected in that same 2018 draft. Such healthy representation on draft weekend across the two entities provides testament to the development process.
BRETT KINNEMAN OH MY GOODNESS pic.twitter.com/OO1RKQqtL9

— Michael Lananna (@mlananna) March 25, 2018
Development is an integral part in the overall goal of helping players move up, but talent and ability are vital pillars in their own right. To that end, the Future Stars Series is an opportunity for U.S. Elite and other clubs' players to strut their stuff.
"There are guys who impact the game with their bat, there are guys who have absolute bazookas from the outfield. We're going to make sure we let college coaches know," Helsel said. "[Scouts] are all looking for certain types of players. We're going to promote the tools the guys [have]."
Each facet of the Future Stars Series adds up to one number for Helsel: 10.
"It should be some great exposure for our players," he said. "That's how you create an event that's a 10 on a scale of 10."