Create a free account to unlock this article!
Get Started
Already a subscriber? Log In
Late Wednesday morning at Toyota Park in southwest Chicago, the air smells heavily of garlic.
The sun shines through a cloudless sky. The sprinklers switch on — ch ch ch. A bag of soccer balls sits at the edge of the pitch.
There follows some curious conjecture about the garlic's origins, hitherto unknown. One line of thought suggests that the nearby RiceARoni factory is churning out a new flavor. Perhaps a nearby restaurant is prepping for the day. There's talk of a nearby cereal factory, although further research reveals that location has closed. Whatever the case, I milled about the grounds at Toyota Park with some of the staff of the Chicago Fire.
Two days later, they'd be on a plane to Germany for a testimonial match versus Bayern Munich, a celebration of the legendary Bastian Schweinsteiger which you can watch right here on FloLive tomorrow at 1:30 PM CT.
Major League Soccer is a league that, at home and abroad, has garnered doubts for years. Detractors point to European stars coming to the United States at the end of their careers, dubbing the MLS a "retirement league." Others complain about the perceived lack of care to tactics, or question the youth development system, or wonder about the pay-to-play model. Then, as if to confirm what the doubters thought, on a soggy pitch in Trinidad & Tobago in October 2017, Alvin Jones destroyed the American hopes for the 2018 World Cup with a wonder-strike that boasted a Cristiano Ronaldo flair about it.
After that, the bottom nearly fell out. Some wanted to burn down the entire system.
In the spirit of full disclosure, I was one of those who questioned soccer in the United States, though I didn't know much about it. I was one of those who wondered about the MLS: Was there actual talent? Was the league fostering young American players? Was the league trending in the right direction?
I leveled out over the years but, still, these nagging questions remained to some degree — that is, until a recent trip to the Chicago Fire flipped everything I thought I knew about Major League Soccer.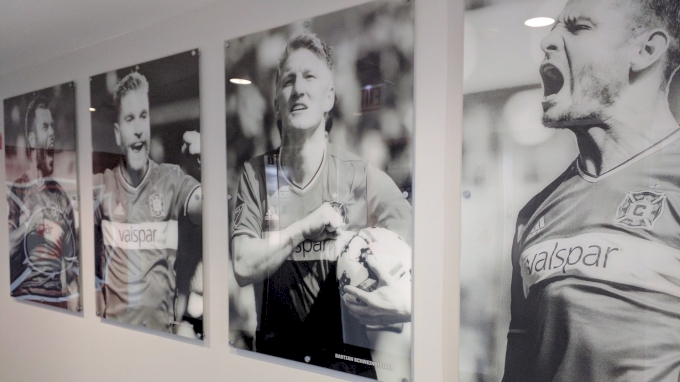 Chicago's stars line the hallways in Toyota Park
If There Was Rock Bottom, This Would Be It
There's no escaping the fact that this season has been disappointing — if not mildly disastrous — for the Fire. Chicago currently sits one point ahead of Orlando City for last place in the Eastern Conference, although the Floridians have two games in hand. Some of the Fire's record certainly has to do with health issues, the most prominent of which was the MCL injury of Matt Polster, who hurt his knee back in March and then suffered a setback in training in May. He finally underwent surgery that has put him out for possibly the entire season. The loss of one of their best defenders has caused some tactical experimentation, like playing star Schweinsteiger on the back line. Reliable midfielder Dax McCarty, who along with Basti spearheads the Fire attack, also missed significant time.
Success without your best players is hard to come by, but the team has certainly not absorbed the punches.
When I visited Chicago last week to shoot an interview with Schweinsteiger, the Fire had lost eight straight games in the MLS and were sitting at the bottom of the conference. Manager Veljko Paunović was trying out different lineups, different combinations, mostly to no avail. The hopes of a playoff berth faded a little more with each loss.
This was a desperate team. Arguably the one thing they really had to look forward to was the trip to Munich, where they'd catch a break from the losing war of attrition that has been their season in Major League Soccer. They could focus on their star; they could play against one of the best teams in Europe; they could drink some fine Bavarian beer.
If ever there was a chance for the hypothetical dregs of the league to be displayed, a trip to the Chicago Fire was it. I wouldn't have judged a single player for holding his head at training that day — a Wednesday, the day before a home fixture against the Columbus Crew. I wouldn't have been surprised or disappointed by sunken spirits. By dragging feet. Lackluster energy. Lackadaisical cuts around the cones. Frustrated managers. Losing eight games in a row sucks; there's no cute spin to put on that.
Then, amazingly, Basti bounded out of the tunnel, past where I was standing. There was a ridiculous, wonderful smile on his face, and either he or someone else had just cracked what must have been a pretty damn funny joke, because both the German and a cluster of his teammates were roaring with laughter.
When all the players had filed out of the locker room — there had been a somewhat lengthy team meeting before their training started — they strapped on their heart monitors and started jogging, stretching, and passing. Almost unbelievably, there wasn't a single shred of negative energy I could detect. Not from the players or the coaches or the staff of Chicago. There was an infectious determination mirrored by the impeccable weather: a breeze, a stunningly blue sky, and a warm-but-not-hot sun.
When we interviewed Basti about the upcoming match in Munich, he not only talked about Bavaria — "I miss the food," he said with a grin — and some of his most memorable achievements in the Bundesliga, he also directed nearly everything to the MLS and, of course, Chicago. He was excited for the Bayern game because of what it meant for his team, not for him as an individual. On top of everything else, he was about the nicest guy you could imagine meeting in the span of a few minutes.
If I'd possessed no knowledge of Chicago's losing streak at the time, I would've probably thought they were cruising through their regular season with an eye to the MLS Cup.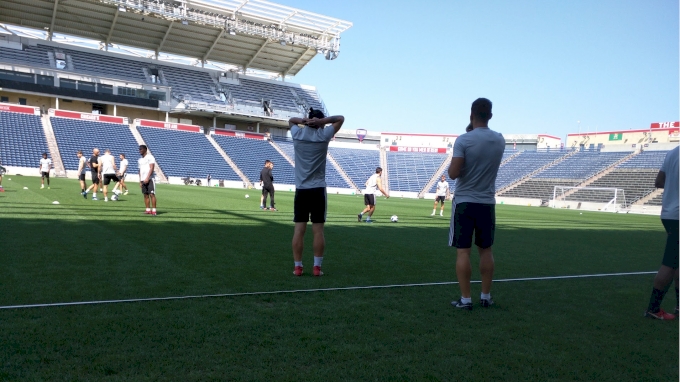 Training that day was anything but low-spirited
The MLS Isn't Just Trending Toward Better Soccer — It's Already There
But an organization isn't much — even with great players — without great everything else.
Maria greeted me when I entered Toyota Park that morning. She's been working for the Fire for 19 years; she started when I was 9 years old. I asked her if she was going to Munich, and she said unfortunately no, but that someone needed to "hold down the fort." She was as lovely and friendly and helpful as anyone else.
There was Eunice, too, who showed us around, who flawlessly facilitated everything and told us about her career with Chicago, her first job out of college. There was Leo, the Fire's broadcast and media manager. As the players wrapped up training, we stood around in the media room and talked pretty much anything else soccer- or sport-related on the internet: Jose Mourinho miffed about the Manchester City documentary on Amazon, Juventus: First Team, and the new season of Hard Knocks.
Everything seemed so stable: the staff, the facilities, the rhythms of the players. The infrastructure was there, and there wasn't a hint of anybody feeling sorry for the kind of season this club was having. These were professionals, through and through.
The point I'm trying to make here is that, even for a professional soccer team, it would've been understandable for a palpable pall to have been hanging over Toyota Park. But there wasn't. Instead, there was every sign of stability — there was every indication that one of the most unfortunate and, frankly, struggling teams in the MLS was absolutely fine. They were showing up to work another day to get better.
The next night, back home in Austin, Texas, I watched an inspired Chicago team take it to a very talented Columbus Crew side and earn a 1-1 draw. The game was both competitive and a display of really, really good soccer. Paunović deployed a back line of three with a four-man midfield — although both lines were quite fluid, especially Schweinsteigher on the right, whose distribution and offensive forays were both key for Chicago — that stopped Columbus' attacks from the flanks. The Fire nearly pulled out the win but conceded late.
This was good, tactical soccer. And there was young talent out on the pitch.
The Fire started 19-year-old Djordje Mihailovic, who's been playing in the Chicago system since 2013. The youngster has already successfully recovered from a ruptured ACL and the subsequent surgery, and he looks to be putting his stamp on the Fire more and more. Chicago also started 23-year-old Brandt Bronico, who played college soccer at UNC Charlotte and helped anchor the center of the pitch for the home side. In goal there was 24-year-old Stefan Cleveland, earning his second career MLS start; in defense 24-year-old Brandon Vincent; and off the bench 21-year-old Mo Adams of England, who played a year of soccer at Syracuse.
The overwhelming feeling with which I left is that Major League Soccer is weathering the storm of the men's national team missing the World Cup. And maybe the best move of all for the league is the movement to youth — and not just American. South Americans, Europeans, and players from the Caribbean are getting more and more time. And that's good for American soccer. Chicago's youngsters now have a chance to travel to Germany and interact with Bayern Munich tomorrow at 1:30 PM; that certainly is a testament to the league's movement.
From what I experienced that day in Chicago to what I've seen the more and more I've watched, the fact is evident that, indeed, the MLS is certainly moving in the right direction. But that doesn't mean you need to put a "TBD" in your calendar — this league is good right now. This league deserves more thorough coverage and investigation and attention, because the current conversation doesn't do the MLS justice.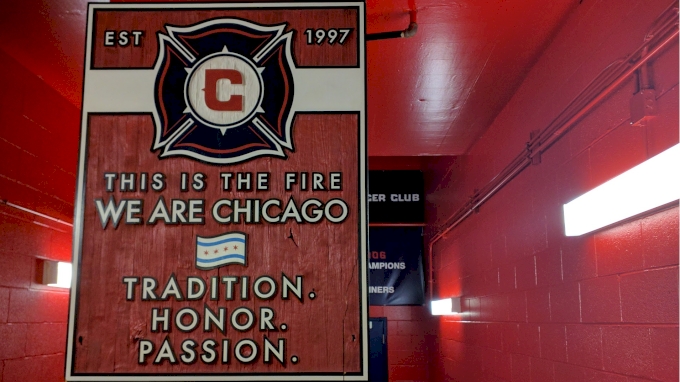 What the players see before they enter the pitch