By Storms Reback

Heading into the final stretch of the seven-kilometer hill run that kicked off the men's individual division of the 2009 CrossFit Games, Mikko Salo and Chris Spealler were neck and neck.
Spealler, a 143-pound spark plug from Park City, Utah, beat the relatively unknown Finn in that workout by less than two seconds, but was given little time to celebrate. Almost immediately after, the competitors were expected to complete an ascending deadlift ladder followed by a 170-meter sprint up a hill while carrying two 35-pound sandbags. But that weekend, nothing could temper Salo's engine--he emerged victorious, and in doing so, cemented himself as a fixture in CrossFit lore.
With eight events packed into two days--five the first day!--the 2009 CrossFit Games was in many ways the most grueling in the competition's history. It was also the most pivotal.
From a national craze to a global phenomenon

Previously, the CrossFit Games had been a small, collegial affair--more like a weekend getaway with buddies than the international phenomenon it was about to become. In 2007, its first year, the Games was comprised of only three events. Anyone who wanted to could compete, but fewer than 70 competitors actually did. It took place on a hilly ranch in Aromas, California, owned by the parents of the event's director, Dave Castro. When the Games returned to the ranch the following year and added one more event to the schedule, it enjoyed a surge of interest--the number of entrants was capped at 300--but the registration process still followed a first-come, first-served model. That changed in 2009, when competitors were required to qualify regionally before advancing to the Games. Suddenly, what had been a national craze turned into a global one as athletes worldwide vied to compete for the title of "Fittest Man on Earth."
One of that season's international qualifiers was Salo, a third-generation firefighter from Pori, Finland, who awed his rivals with a triumvirate of strength, endurance, and perseverance. "I was blown away by how balanced he was," said Matt Chan, a Colorado firefighter who finished 18th in 2009 and went on to make four top-10 finishes, including second place in 2012. "Most people performed well in one event, whereas Mikko did very well in all the events in 2009. I think he showed what true balance across skills and drills looked like and really stepped up the game for everybody else."
Another competitor who left the 2009 Games impressed by Salo's performance was Tommy Hackenbruck, a former linebacker at the University of Utah who finished second in 2009 and went on to make two more top-10 finishes. "I had the lead going into the last workout, and he just freaking destroyed it," he said. "I was extremely impressed by his raw fitness. No one else there blew me away, but he did. He could run. He could lift. He was three years ahead of everybody else."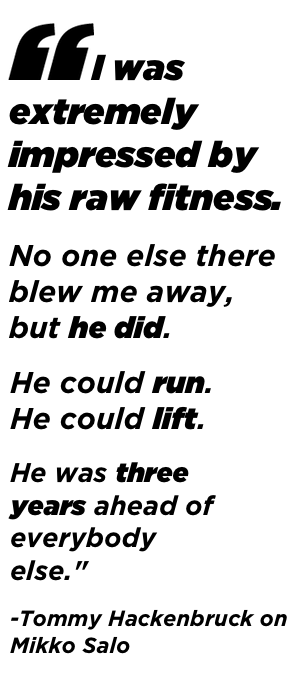 Finishing five points ahead of Hackenbruck and 28 points ahead of the previous year's champion, Jason Khalipa, Salo won the title in 2009 while Spealler and Chan failed to complete all the workouts that year. After Salo's spectacular performance, the entire CrossFit community wanted to know the secret to his success. Much of it had to do with something more intangible: his attitude, a mix of fierce determination and northern European stoicism known as sisu in his homeland.
A documentary of the same name filmed later that year captured the essence of Salo's character. "During the run in 2009, did you ever want to quit?" filmmaker Sevan Matossian asked him. "No, that's not an option for me," Salo said. "I'll never quit when I'm doing a workout. My pace might get slower, but [I] never quit. I'll do it anyway. I'm always giving all-out effort when I am doing metcons or in a competition. It's not an option for me to quit."
Later, when Salo was asked why he didn't lie down after completing a grueling chest-to-bar Fran, he lent a little more insight into his unique perspective. "When animals surrender, they go lying on their back. From then on, I decided I would never go lying on my back. It's a sign of weakness and surrender. I'm never lying on my back."
The film also documented Salo's grueling training regimen, which created a seismic shift in the CrossFit world. Prior to 2009, one workout a day was the norm. But
Sisu
showed Salo rowing intervals in the morning, completing a lifting session in the middle of day, and knocking out two or three metcons in the evening. That was a
typical
day for him. No one else was doing volume like that at the time, and when other CrossFit athletes saw that, it changed the way they trained. Doing multiple workouts a day soon became a common practice.
"All his performance measures made a lot of sense once I heard that," said Hackenbruck. "Honestly, it was a little tough to believe. Whenever I watch CrossFit documentaries about him, you see that and it's a little unbelievable, like this guy's just playing it up for the cameras. But it was a testament to the fact that he really did put in that much work. I was very impressed. I was nowhere near it and didn't have any intention of being near it. I already had two kids at the time. Nothing was going to make me change the way I trained. But it did make me realize I wasn't going to win the CrossFit Games unless I upped my level of commitment."
The 2009 CrossFit Games were momentous in other ways as well. It was the last year that athletes competed for peanuts--Salo only earned $5,000 for his victory--and the last year it took place on a dusty ranch in the boonies. The following year, the Games moved to the Home Depot Center in Carson, California, and the winner was awarded $25,000. 2011 brought even more dramatic changes as Reebok came onboard as a sponsor, first-place prize money increased tenfold, and ESPN3 live-streamed three hours of the event each day.
The rise of a legend

As the sport's early stars kept dutifully returning each year, it helped the CrossFit Games transition from regional to global phenomenon. Spealler, Chan, and Hackenbruck became perennial fixtures on the leaderboard, but none of these names generated the buzz that Salo's did. He and some of his workouts have taken on an almost mythic status, like King Arthur pulling the sword from the stone. When a video of him doing a 20-minute AMRAP of King Kong--he did 12 rounds when most people would have stopped at three--made it online in 2011, the CrossFit community nearly lost its collective mind.
Unfortunately, Salo's performances at the CrossFit Games couldn't keep pace with his legend. After finishing fifth in 2010, he went on to suffer a cruel rash of injuries. In the first workout of the 2011 CrossFit Games, he ruptured an eardrum while swimming in the ocean and was forced to withdraw. Six months later, he had knee surgery and had to pull out of the 2012 Games. In 2013, he finished second in his region during qualifying, but suffered an abdominal injury a week before the Games, compelling him to withdraw yet again. And in 2014, he came down with pneumonia during the Open, causing him to miss a workout and disqualifying him from the competition.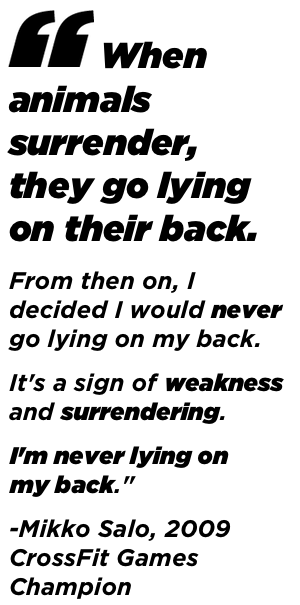 The man known for his engine was breaking down.
When Salo won the Crossfit Games in 2009, he was on the verge of turning 30--hardly ancient, but not young by elite fitness standards. While most of his injuries were chance occurrences, the volume he was putting in while training couldn't have helped.
"I think as you age, pushing that higher volume, especially with weight training, can lead to injury," said Chan. "I've learned this the hard way. As you age, recovery time becomes a priority. You train when you can, not when you should."
Hackenbruck was less certain about the correlation between Salo's aggressive training schedule and the injuries he's suffered. "I'm sure the training volume contributed to the injuries, but for the most part they were flukes. He's definitely put a lot of wear and tear on his body, but I think the
timing
of his injuries was worse than the injuries themselves. I imagine six months out of the year he stays pretty healthy."
More confident that Salo's age was a factor, Hackenbruck said, "I'm curious to see if Ben Smith, Rich Froning, and Mat Fraser can stay healthy year-round when they're 32, 33, or 34, if they do the same volume they're doing today. I think that would be telling. I'm 35 now, and for the last two years I don't feel like I recovered quite as well. When I was 33 and 34, I started to feel a little bit of a shift."
Spealler has also noticed the drop-off in performance CrossFit athletes experience in their mid-30s. "I think it's similar to what you see in the NFL," he said. "There are a few guys, depending on the position, who are older, but for the most part the players are in their mid- to late-20s. That's the lifespan there."
A second wind

In 2010, Castro addressed the issue of older athletes who could no longer keep up with their younger counterparts by creating a Masters division for those aged 50 and above. The following year, it was divided into four separate divisions and expanded to include 45- to 49-year-olds. The expansion continued in 2013 when a fifth Masters division for 40- to 44-year-olds was added.
As well-received by the CrossFit community as these moves were, it soon became apparent that an additional Masters division was needed for those in their mid- to late-30s, as only a small fraction of them could still realistically compete against 20-year-olds. Adding more urgency was the fact that some of CrossFit's biggest male stars--Hackenbruck, Spealler, Chan, and Salo, to name a few--were being forced into retirement by age.
On January 3, 2017, Castro announced a sixth Masters division for those 35- to 39-years-old was going be added to this year's schedule. Debates immediately arose in online forums.
"Is this new division really necessary?"

"Who will compete in it?"


None other than Mikko Salo, who entered the new division after a four-year hiatus from Open competition and finished strong in ninth place for 17.1.
One person who supported the creation of the new division was Chan. "I think it's really cool. It gives the older guys an opportunity to compete at the highest level without having to compete against kids who are pumping testosterone and growth hormone (at a natural level) that obviously can't be matched because of age, and gives them an opportunity to compete on the big stage amongst their peers. I think 35 is the right age to start a Masters division with. I do think that 33- and 34-year-olds can compete on the Open level and should not be considered Masters."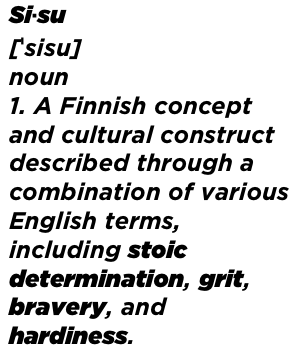 Hackenbruck was also a fan of the new division. "I think there are guys who are 35- to 39-years-old who can and will qualify for the Open, but it's going to be pretty rare. I think this new division will be a fun competition to watch, so why not do it?"
Calling the creation of the new Masters division "a natural progression," Spealler accepted it, but wasn't as enthusiastic. "I don't think it has quite as much draw as the Open. I think people like to see the pinnacle of a sport, and that tends to be the Open division and not athletes in their late-30s, mid-40s, early-50s. I don't train to be the best 35- to 39-year-old athlete in the world. Not that what the athletes in the Masters age groups are doing isn't incredible. I don't mean to undermine the work and the energy they put into it. It's just different."
When Spealler, Hackenbruck, and Chan were asked who they expected to win the new division, they were nearly unanimous in their belief that it wouldn't be one of them.
"I'm not training for it," Hackenbruck said. "There will be a lot of guys in it who you've seen at the Games before, but I don't think that gives them an upper hand. I think there's probably 5,200 guys who've never been there or who've only been there on a team who are hungrier. They're probably training a lot harder than a lot of the veterans that you've heard about. I think it'll be very heavily populated with newcomers."
When asked how he thought some of his old rivals would perform, Hackenbruck said, "I don't expect to see Chris Spealler standing on the podium just for the simple fact that I think he has prioritized his family and business over training. He's been working out, but not that hard."
Spealler agreed. "The athletes that we're talking about, Tommy, Matt, Mikko, and myself, guys who've been around, we really pushed our bodies as far as we could, and now most of us have things we have to take care of because of what we've done in the past. [The new Masters division] is a great opportunity for athletes who haven't been there and have the time, dedication, and drive, so I think you'll see more athletes in that age group who haven't been to the Crossfit Games before than have. For guys like Matt, Tommy, and myself, it doesn't have as much appeal. I think it's really hard to replicate the experiences we had, and I don't have any desire to try to replace them with any new memories this year. I'm just not willing to sacrifice my well-being and my quality of life anymore for one more rep or one more trip back to the Games."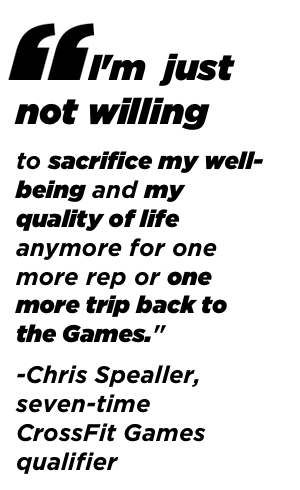 Chan's take was nearly identical. "I think a lot of the guys who have been to the Crossfit Games before are considering the 35- to 39-years-old category as a subset of the Crossfit Games and maybe they consider it an inferior category and are doing it for fun. But for many of the athletes who entered the Games a bit later and never really had the opportunity to compete at that level, this is their opportunity to be on the grand stage and have an opportunity to compete at Madison this year. This is their Crossfit Games."
Chan is currently taking a year off from the CrossFit Games to recover from knee surgery with the goal of returning in 2018 to compete in the Masters (40-44) division. At the time of this writing, Hackenbruck was in 295th place and Spealler was in 33rd place in the Masters (35-39) division for the Open. Salo was in ninth place after the first workout of the Open, but didn't complete the second workout, forcing him withdraw from the competition once again.
But if we know anything about Salo, it's that he won't be lying on his back until next season.