By Storms Reback

Living up to the family name is no small task--especially when your last name is "Powers." But Florida State's all-star hitter and reigning ACC Player of the Year is rising to the challenge.
Last year, Alex Powers batted .396 with 16 home runs and 63 RBI, and she's on a similar tear this season, batting .450 with four home runs and 28 RBI through the first 34 games.
Her father, Kevin, credits his wife, Pam, for her lethal combination of strength and speed. "Her mother is a very strong woman. She played softball in high school. She also has very good eye-hand coordination. I had good eye-hand coordination and was always very fast. I never hit a home run in high school. I was a Pete Rose-type hitter. I'd choke up on the bat, put it in play, and fly."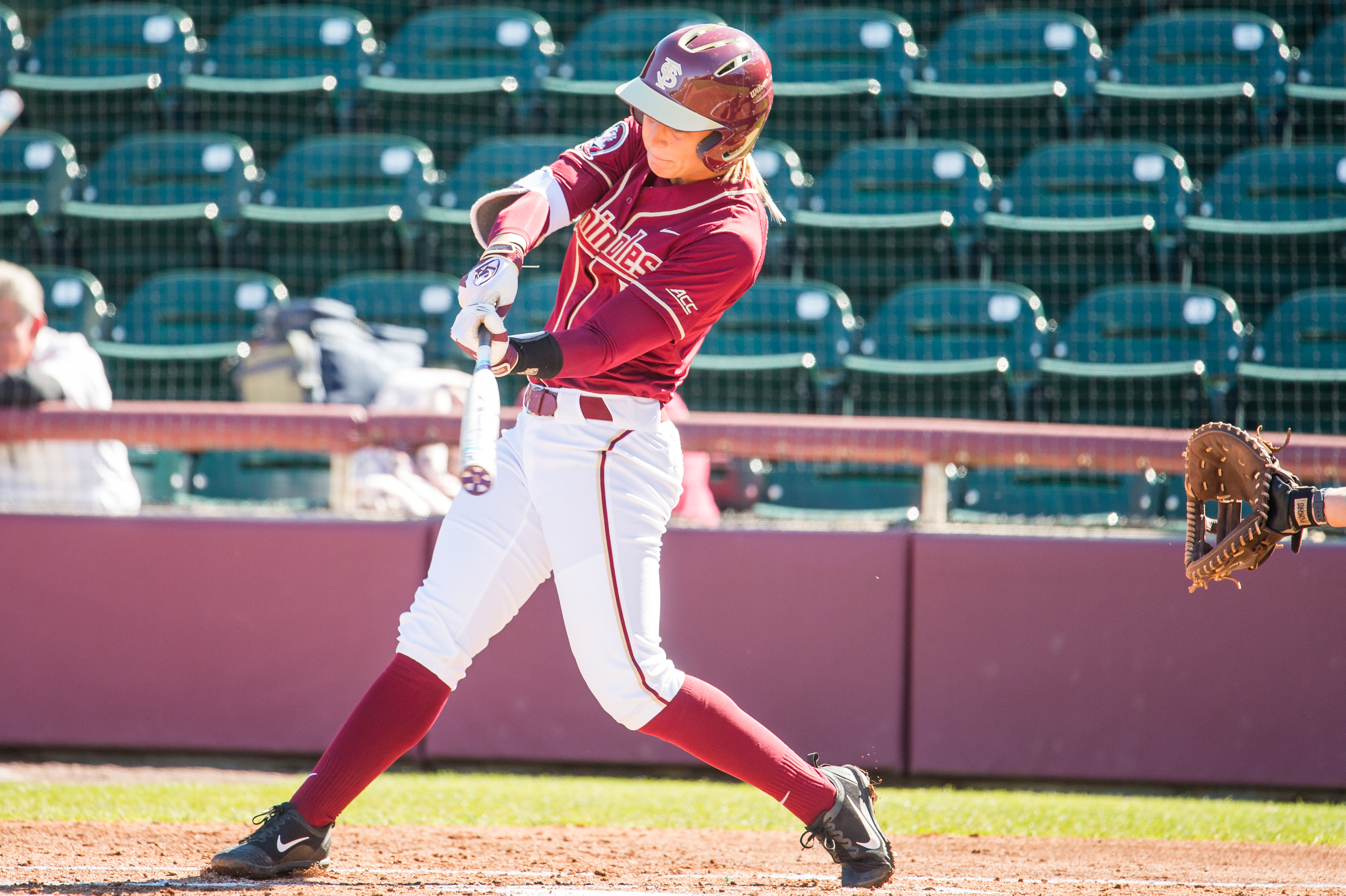 Pam was Alex's first softball coach, but her father took over when Alex reached double digits and joined a local traveling team in Melbourne, Florida. He and his wife have attended nearly every one of Alex's home games during her career, they never miss any of her postseason games, and any games they do miss they listen to on the radio.
Kevin's background also fed into Alex's path toward becoming an elite player--in college, he pitched at Central Florida for a year before transferring to Concord College in West Virginia so he could play baseball
and
football. There, his athletic talent was on full display--along with his many superstitions. He refused to touch any white lines whenever he walked onto the field. He listened to the same five songs (three by AC/DC, two by Billy Idol) before every game. And in what may be jest or hyperbole, he claimed to never "listen to a station on the radio unless it's an even number."
Kevin eventually handed the reins to Kevin Fagan, coach of the legendary Team North Florida club softball team. But he never stopped teaching his little girl.
Every Monday, Wednesday, and Friday morning of Alex's high school years, she and her father would work on her hitting--even though she'd been a permanent fixture in the starting lineup of Eau Gallie High School's varsity squad since she made the team as a freshman. "The thing I will forever be proud of her for is the fact that I never had to ask her," Kevin said. "She always came and woke me up. It was at that point I knew she would play in college."
As a high school freshman, Alex hoped to wear No. 11 to honor her father, but an upperclassman had already claimed it, so she wore No. 8 instead. Her athletic ability wasn't the only thing she inherited from her father. After enjoying an excellent freshman season, she fell prey to her own superstitious nature and opted to stick with No. 8 for the next three years. She wouldn't start wearing No. 11 until she joined Florida State's softball team in 2012.
[tweet url="https://twitter.com/FloSoftball/status/793554708916867074" hide_media="0" hide_thread="1"]
After a celebrated high school career in which she'd won the ASA 18U national championship with Team North Florida and led Eau Gallie to a 4A state championship her senior year, she arrived in Tallahassee with all the hope and promise a prized recruit brings.
Then--disaster.
While rounding first and heading to second in a base-running drill during the final day of fall practice, she tore the ACL in her right knee.
"We came to the conclusion pretty quickly that I was going to redshirt," Alex said, "so there was really no rush. Rehab went well. Just taking it day by day and trying to find progress in the little things helped me a lot. And the support staff was awesome. They kept everything fun and light-hearted and kept my spirits high."
Alex missed the entire 2013 season, but made it back for fall ball. That's when disaster struck once again.
On the first day of practice, she got caught in a pickle between third and home during a base-running drill when she planted her left leg, heard a pop, and the leg "just kind of collapsed." An MRI confirmed she'd torn the ACL and meniscus in her left knee. Alex was devastated. "I definitely cried a lot. I was really frustrated and angry. I'd never been significantly injured up to this point, so I didn't understand why these major injuries kept happening to me."
Entering her fifth season as the head coach of Florida State's softball team, Lonni Alameda has witnessed her fair share of injures.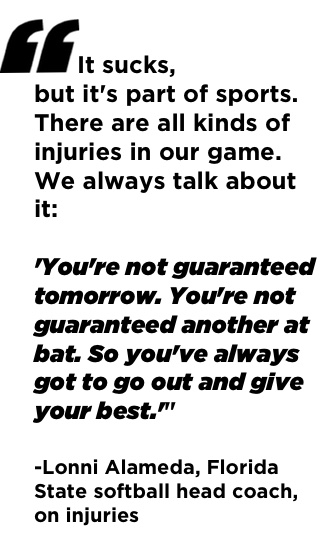 "It sucks, but it's part of sports. There are all kinds of injuries in our game. We always talk about it: 'You're not guaranteed tomorrow. You're not guaranteed another at bat. So you've always got to go out and give your best.'"
For the first surgery to repair Alex's right knee, the doctor did a hamstring graft. It decreased the chances of long-term complications arising, but increased Alex's recovery time as she was forced to rehab her knee and her hamstring. This time around, the doctor proposed a patellar tendon graft, which would leave a bigger scar and a higher risk of tendonitis, but allowed for a quicker recovery.
"How soon can I have her back?" Coach Alameda asked the doctor.
"If she does everything right," the doctor said, unfolding his index finger, middle finger, ring finger, and pinky, "she can be back in four months."
Alex's eyes widened, and her spirits immediately lifted:
Just in time for opening day!
"I just knew that the opportunity to be a part of that team was too special to pass on," Alex said. "I definitely did not want to take a second redshirt, even if I couldn't play to my full capacity."
"She was pretty upset for a couple of weeks after the first one," Coach Alameda said. "For her second ACL, she was upset for maybe an hour. Then she was like, 'OK, I'm going to get back out there.'"
Run, Alex, Run
Just as the doctor anticipated, Alex made it back on the field in the spring of 2014, but she was a shadow of her former self. "I was playing at four months," she said, "but I definitely wasn't fully recovered at that point. With any kind of big injury, you have to learn the fundamentals again. I had to relearn everything: how to walk, how to run, how to lift."
It took Alex 14 games to get the first hit of her collegiate career: a grounder to left field against UC Santa Barbara that presaged how the rest of her season would go. Fully healthy, she might have rounded first and attempted to take second. As it was, she was just happy to get a single. "At that point, I didn't even care," she said. "I was just excited to have everything finally come together after all the frustration, all the tears, all the pain."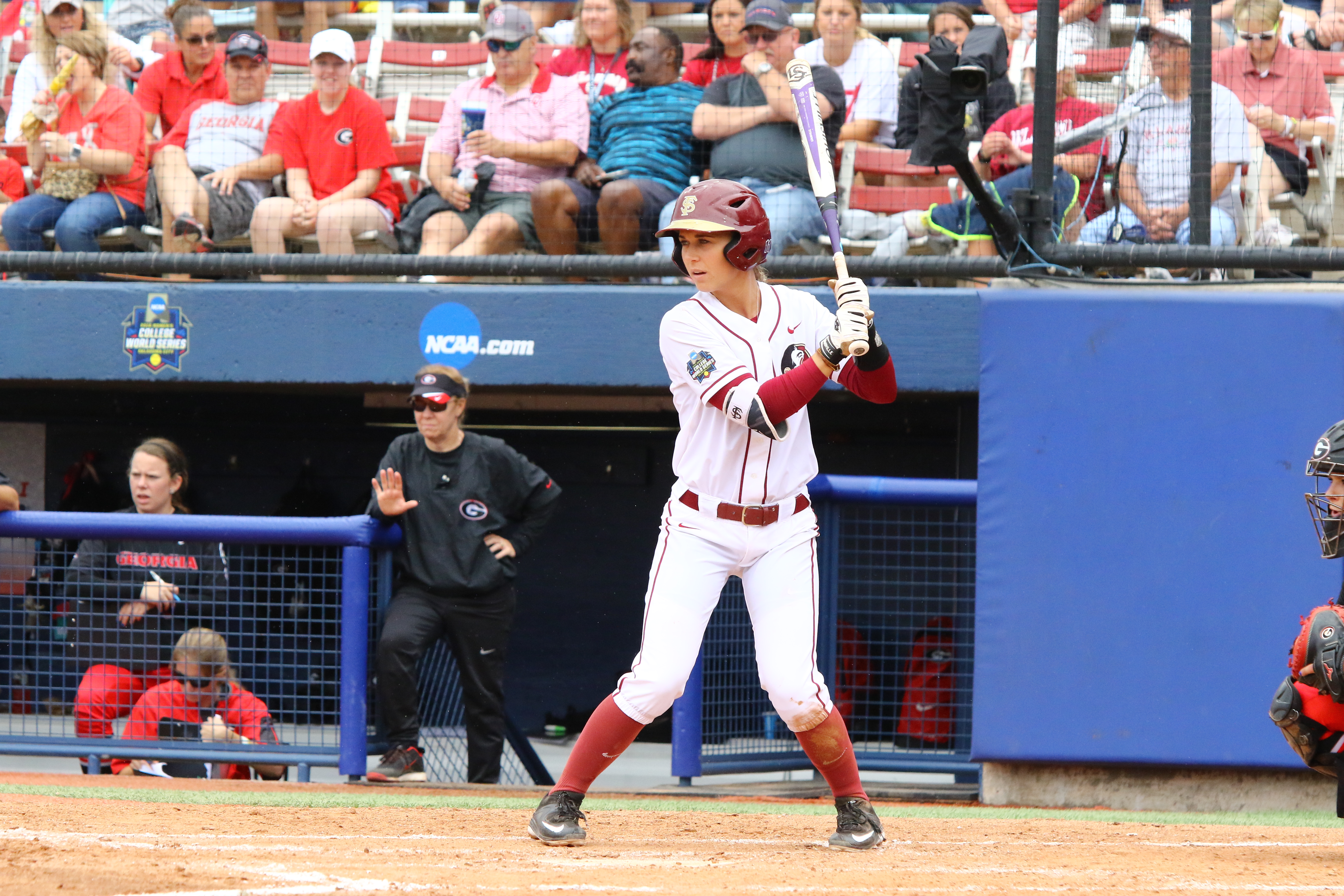 She batted .314 with 16 hits and 12 RBI that year--respectable numbers for her first year of college ball--but she struggled on the base paths. "It was kind of a joke that I wasn't really going to practice base running, that I was just going to do it in the games," she said, "but that was the case for a while. Because I wore knee braces, sliding was kind of hard. I did a lot of head-first sliding that year."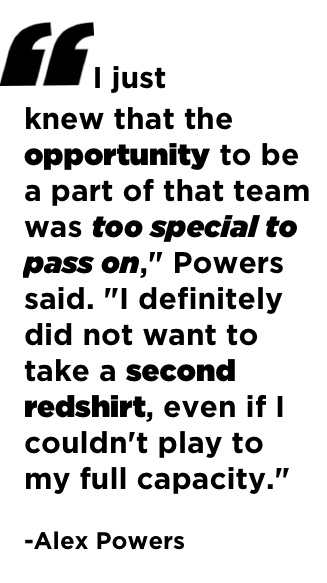 Wearing knee braces that, in Coach Alameda's words, made Alex look "like Forrest Gump," Alex could barely run or slide. She'd often hit sure doubles into the outfield, but only make it as far as first base.
"She was motivated to get out of them," Coach Alameda said. "Instead of moaning about the situation, she was like, 'OK, what's the next step to make myself faster? What's the next step to get myself out of the knee braces?' "The minute she started to get frustrated, it quickly turned around into her getting better. I think it's all a matter of perspective and character, and hers really shone through."
In addition to struggling with her base running, Alex was also forced to play musical chairs in the field as the coaches tried to figure out the best spot to play her. She played shortstop in high school, but at Florida State, that position belonged to Maddie O'Brien. Like Alex, she was a left-handed power hitter who would become known as one of the best offensive players in Seminoles' history.
The two players' careers were eerily similar. Both had been celebrated high school players from Florida. Both had won the ASA 18U national championship with their club teams. Both were plagued by nagging injuries--Alex's knees, Maddie's ankle. And both were forced to redshirt as freshmen.
Getting back on the field in 2014 allowed Alex to watch Maddie go from an injury-riddled player with all the potential in the world to the ACC Player of the Year and an NFCA first-team All-American. "She was an awesome player and a great teammate," Alex said. "I would text her after games her junior year, which is the year she had 24 home runs and was just killing it, and I would tell her, 'Good job,' and that I was so proud to be her teammate. I learned a lot from her. I wanted to take what she showed me and the things I learned from watching her and make them my own."
Coach Alameda also recognized the value of having Alex learn from Maddie. "Alex wanted to do what she saw Maddie do every day on the field. She wanted to be a consistent hitter with power numbers because that's what her team needed her to do. But their personalities are completely different. Alex loved what Maddie did here and wanted to do the same, but she didn't want to be Maddie. That's another thing we talk about here: 'Don't try to be somebody else. Be yourself.'"
With Maddie entrenched at shortstop, the coaches tried Alex in the outfield, but Alex wasn't very comfortable and the team already had plenty of talented outfielders, so they moved her back to the infield. "First base requires the least amount of movement," Alex said, "so that's where I am."
In 2014, the Seminoles made it to the Women's College World Series (WCWS) for the first time in a decade only to lose consecutive games to Oregon and Baylor and get eliminated. Compounding Alex's frustration, she still wasn't fully recovered from her injuries.
Alex started all 63 games the following season, hitting nine home runs and 45 RBI, but her father could tell she still wasn't 100 percent. "I never saw a high level of comfort in her that redshirt sophomore year," said Kevin, "and yet, she was still hitting the ball. All the coaches wanted her to do was swing for the fences and hit dingers. She hit .260, .270--something like that. It wasn't until her junior year that I started to see her confidence come back. That's when I saw the player I'd always known."


Get With The Program

After the Seminoles failed to make it to the WCWS during Alex's redshirt sophomore year, Coach Alameda decided to shake things up before the start of Alex's junior year by requiring the team to go through
The Program
, a boot-camp-like regimen designed to create "better leaders and more cohesive teams."
"My first experience with The Program, our coaches were in a meeting and their door was closed, so we were sitting in the hallway just hanging out and talking, when this huge, buff Marine came out of the office and pretty much told us to shut up because we were being disrespectful to our coaches and we needed to get our act together. Doing The Program taught us how to communicate and how to take directions better from each other, knowing that, in the end, everybody has everybody else's best interests in mind. It's never about one person. It's about the good of the team. I think that was a really important lesson for us to learn last season."
Boding even better for the team's chances, Alex was finally able to shed the knee braces that were literally weighing her down the past two seasons, allowing her to become a complete player. What resulted was a season for the ages, after which she was named ACC Player of the Year and an NFCA All-American.
A big part of Alex's turnaround involved her turning what was once a liability into an asset. "One of my favorite things to do now is base running," she said. "You'll probably think I'm crazy to say this, but I almost like scoring runs better than I do hitting them in. I think the amount of runs you score is a really cool stat because it's an accumulation of the amount of times you get on base and the amount of times the people behind you can hit you in."
"After going through what she's gone through, I get more excited watching her stretch a single into a double or stealing a base or coming home from second to score than I do watching her hit a dinger," Kevin said. "Nobody realizes that she was always fast. The kid's always been able to motor."
When Alex was young, Kevin said she actually batted right-handed and specialized in slap hitting because of her speed before her first travel ball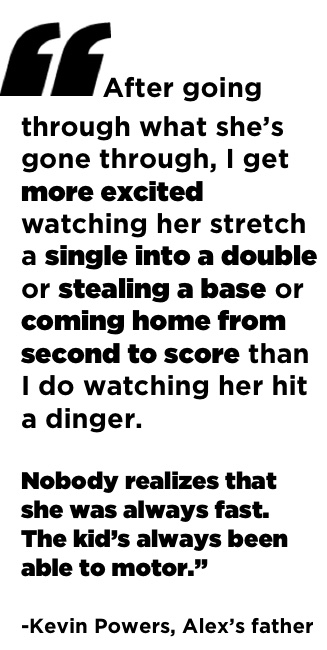 coach changed her from a righty to a lefty and had her work on her power.
Judged by the metric she's so fond of (runs scored), Alex had an amazing season last year, crossing home plate 62 times, but the number that gets her even more fired up is 401--the number of runs her team scored.
"I attribute my success last season to the team I was surrounded by," she said. "Without them and their knowledge and the runners before me getting on base and the people after me picking me up, I don't think I would have had any personal success at all. Our pitchers are stout. They are some of the best in the country, and without them holding teams down like they do and without having Jessica Warren, Morgan Klaevemann, and Ellie Cooper in the lineup near me, I definitely would not have been the player that I was able to be last season. I attribute all my success to everything the people around me did."
Alex's speed and power helped Florida State win two games at last year's WCWS. She batted 8-for-14 with two doubles, two home runs, four RBI, and three runs scored to earn a spot on the All-Tournament team, but she and her talented teammates ultimately fell short of their goal, losing to Auburn in the semifinals.
Did You Have Fun?

The Florida State softball team has a monkey on its back that grows heavier with each passing year. Despite appearing in the WCWS nine times, it has never won an NCAA title. So why is this year different?
Let's count the ways. The team returned all nine starters from last year's team. They're also overflowing with senior leadership. Ellie Cooper, Sydney Broderick, and Lauren Harris are in their fourth and final years, while Alex, who graduated last spring and is currently pursuing her master's degree in sports management, and All-American pitcher Jessica Burroughs are both fifth-year seniors.
Out of this group, Alex has emerged as the team's most fiery and vocal leader. "I think, because of the ACL tears, Alex has become a lot more comfortable with who Alex is," Coach Alameda said. "She's experienced five years of Florida State softball. This is her opportunity to give back to the younger kids. She speaks up a lot more now."
This year's team has also developed the sort of camaraderie that helps a team stay loose and even-keeled when down a run in a championship game. Nearly every player has a nickname and a story to go with it. Cali Harrod is "Cal Dog." Dani Morgan is "Dirty Dan." Morgan Klaevemann is "Momo." Korina Rosario is "Korn."
During her time at Florida State, Alex has earned several nicknames. The coaches initially started calling her "AP," but after Alex got two manicures in a single day, Jessica Warren changed it to "Princess AP," which eventually got shortened to "PAP." "I get called 'Grandma,' too," Alex said. "Jessica's the oldest on the team, and I'm the second oldest, but somehow she's called, 'Mom,' and I'm called, 'Grandma.' I guess she's a little hipper than I am."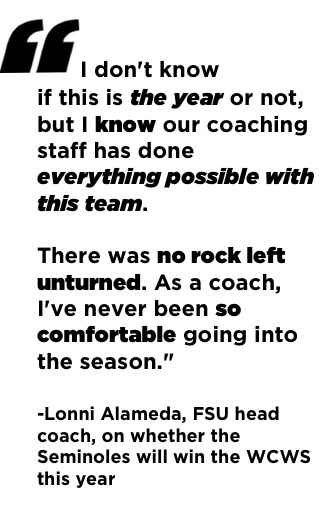 After sweeping a three-game series against Virginia over the weekend, Florida State's record is currently 32-1-1, but as coaches tend to do, Coach Alameda remains a little circumspect about this team's chances to win a national title. "I don't know if this is the year or not," she said, "but I know our coaching staff has done everything possible with this team. There was no rock left unturned. As a coach, I've never been so comfortable going into the season. But we're still growing. I don't even think we have an identity right now. I think we're pitching OK and playing some good defense and our hitting is kind of coming and going, but in 60 games, you need to peak at the right time."
Alex, who is batting .450 with four home runs and 28 RBI through the first 34 games this season, sounded more assured. "We're on a roll and we're definitely confident. We know that we just have to play our game. We're trying to not play other people's games and to approach a mid-week game against a small school no differently than we do a game against an ACC rival."
[tweet url="https://twitter.com/FSU_Softball/status/838120310129950720" hide_media="0" hide_thread="1"]
If Alex has any weaknesses, it's the over-reliance on superstitions she inherited from her father. When she left for Florida State, Kevin had two necklaces made: one for himself, one for Alex. "I'm so superstitious," she said, "I have to wear it the night before the game and sleep in it, then wear it the whole next day."
Alex and her father also maintain a ritual: After every game she plays, he asks her how it went. She knows he's not asking her to recite her stats or explain why her team won or lost. He already knows all that. What he's really asking her is if she had fun.
"I realized a long time ago that we're all going to grow old," he said, "and I wanted Alex to know that, no matter what happens in the sport you're playing, it's going to end, and you want be able to look back and go, 'Oh, my goodness. That was the most fun I ever had.'"
When Alex told her side of the story, it was clear she'd taken her father's lesson to heart. "Sometimes, I'll be like, 'Dad, I didn't play well.' He'll be like, 'But did you have fun?' And I'm like, 'You know what? I did.' Because every opportunity I get to step on the field, I'm happy, regardless of the result. I think that that's one of the most important things he taught me. He always wanted me to embrace every opportunity on the field, good or bad, great play or error, home run or strike out, and not to regret anything."
Alex Powers and the Florida State Seminoles will be back in action on Friday, March 31, as they kick off a three-game series against the Pittsburgh Panthers at home. Read Alex's blog on WSN247.
Like What You See?
Sign up for the FloSoftball newsletter for instant access to: Breaking News, Live Streams, Rankings, Technique Videos and more!